On behalf of the staff at Deschutes Animal Clinic, we are honored to pay respect to our beloved animal friends who have passed. We also welcome you to create a lasting tribute for your beloved pet or animal friend on our website's Pet Memorial page. Please send us an email with an image and a short biography.
Pretty Boy Floyd – April 7th, 2007 – April 15, 2018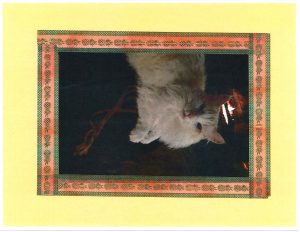 In loving memory of Pretty Boy Floyd
His soft white fur covers most things in the house, still floating in the air, wisps of him speaking to me and reminding me of his presence.
Remembering the mornings where we touched noses as we greeted each other
Him appearing on the dog walks with Lucy, sauntering along never far behind, cutting through the grass making his own pathway.
Making friends in the neighborhood, brushing up against pant legs, leaving his mark.
His demanding way of yelling from the hallway to feed him, pet him and brush him while he ate his food.
He was my angel in white, soft fur to be stroked, pink nose and bright blue eyes to be admired.
He was a Prince,
My Pretty Boy Floyd.